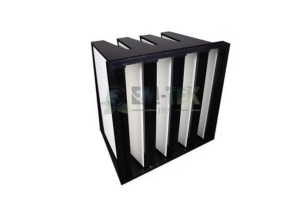 Our company have been presented with ISO Certified air filters on the Hungarian market for many years.
1. Filter mat
Filter mat is used (depending on its type) in air ventilation systems, paint spray booths for separating fine or coarse dust particles from the air. We offer filter mats in different filter classes (G1, G2, G4, F5, R, "GÜ",F500 "S") both in roll good or cut to size.
2. Pocket filters
Pocket filters are used in any type of air ventilation systems to remove fine dust. Main fields of use: production plants, laboratories, conference halls, hotels, office buildings etc. in their climate control appliances. Different filter classes: (EU-3 – EU-8) and size are available.
3. Panelfilters
Panelfilters can be divided into two groups: surface magnified and flat panelfilter which are used in any type of ventilation system. We offer surface magnified panelfilters (EU-3 – EU-5) in wide range of size and design.Thanks to the densely folded filter material it has larger filtration surface, high level of dust retention, long lifespan. They are housed in paper or steel frame. Paper framed panelfilter is used once but the steel framed version is reusable. Filter media of flat panelfilters (EU-2, EU-3) is made from glass filament or synthetic fiber. Inlet side has an open structure with coarse fibers, yet clean side has fine fibers formed a closer structure.
4. Compact filters
Compact filters (EU-6, EU-7, EU-9) are generally preferred in high performance ventilation systems as fine filter or in ventilation system requires extremely long service life. Such as power plants, gas turbines, hospitals, laboratories etc.
5. Filter cells
Filter panels have cellular configuration .made from densely folded 100 % Polypropilene. This enables large filtration surface, low pressure difference and air flow therefore leads to a more efficient filtration. These filters are ideal when space is restricted for using pocket filters or compact filters. Main fields of use: climate control appliences, pharmaceutical and chemical industry, hospitals, laboratories.